| | |
| --- | --- |
| Calculation of the Mean Dispersion of Glasses, 104×(nF–nC) | |
The model for the mean dispersion, 104×(nF–nC) (λF = 486.13 nm (blue), λC = 656.27 nm (red)), at room temperature is currently being updated for several weeks, possibly until March 2008. In the meantime, the following diagram may be used for orientation. Please check back at a later time for more detailed information.

The spider-graph below shows the influences of selected glass component additions on the elastic modulus of a specific base glass, while keeping the molar ratios of all remaining components constant. The spider-graph will be different for other base glass compositions.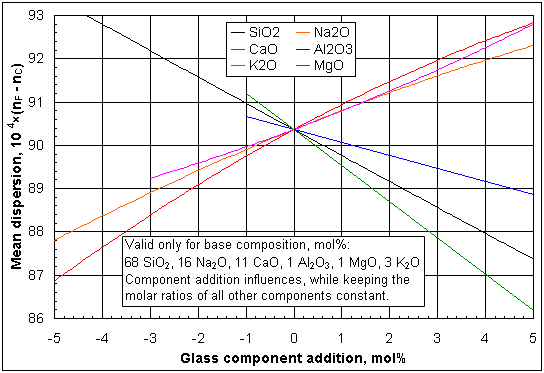 Influences of selected glass component additions on the mean dispersion of a specific base glass (click image to enlarge)