| | |
| --- | --- |
| Calculation of the Elastic Modulus (Young's Modulus) of Glasses | |
The model for the elastic modulus (also known as Young's modulus, Young modulus, modulus of elasticity, or tensile modulus; defined as ratio of uniaxial linear stress to linear strain) is currently being updated for several weeks, possibly until March 2008. In the meantime, the following diagram may be used for orientation. Please check back at a later time for more detailed information.

The spider-graph below shows the influences of selected glass component additions on the elastic modulus of a specific base glass, while keeping the molar ratios of all remaining components constant. The spider-graph will be different for other base glass compositions.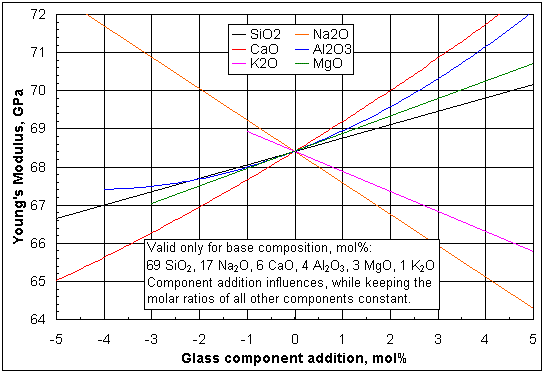 Influences of selected glass component additions on the elastic modulus (Young's modulus) of a specific base glass (click image to enlarge)